Part II in a series of capsule reviews from the 2014 Sundance Film Festival. For Part I, click
here
.
Young Ones
Michael Shannon and Nicholas Hoult star in "Young Ones," a neo-western set in a dystopian future where prolonged drought has led to a regression of society and feudal states drawn along watershed lines. Shannon plays Ernest Holm who, together with his son Jerome, works a supply run and scrapes a living out of the dry earth. He locks antlers with Hoult's Flem Lever, a motorcycle-riding hot shot who is after both Holm's work and his daughter (played by Elle Fanning).
In "Young Ones," director Jake Paltrow (brother of Gwyneth) has envisioned and constructed a wholly-realized future, populated with new but familiar technologies, customs, economy and aesthetic. It is an impressive feat of world-building, providing a clear picture of the circumstances our characters live in without the burden of noxious exposition.
The story itself is also engaging, unfolding in three distinct chapters that focus on distinct characters. It blends a patchwork of disparate genres -- post-apocalyptic, science fiction, coming-of-age -- with an impressive clarity that allows the actors to shine.
Grade: B+
Ivory Tower
The central question in "Ivory Tower," the latest film from "Page One: Inside the New York Times" director Andrew Rossi, is whether a college education is still worth the investment considering the spiraling costs that over the last 30 years have soared well in excess of inflation and essentially every other market good.
The cause of those rising costs are myriad -- decreased state-level funding, ballooning administrative salaries, inter-institutional competition that drives new, bigger construction and facility enhancement -- but on the other side of the wallet is a student who, statistically speaking, is less and less likely to complete their degree and if they do, they are burdened with 5- or 6-figure debts and a bleak job market that sees half of all recent graduates under- or unemployed.
Rossi does a remarkable job of illustrating the problem without getting bogged down in the quagmire, jumping nimbly through profiles of students and institutions, from the Ivy League to non-traditional schools in Death Valley. The film largely ignores technical education and the community college class, and is less successful at proposing a solution, perhaps because none has yet to present itself. MOOCs, the online super-courses and would-be saviors of higher education are shown to possess interesting possibilities, but the real-world application has so far seen mixed -- if not largely negative -- results.
But it is not the documentarian's job to fix the problem, only to raise the questions that will hopefully be discussed by those in a position to change their behavior and advance toward a new result (in this case students, faculty, administrators and lawmakers). In that regard, Rossi succeeds at making a clear case that reform is needed and a film that would be beneficial viewing to anyone involved in education.
Grade: B+
Wish I Was Here
Zach Braff's diretorial follow-up to "Garden State" was under scrutiny long before its premiere in Park City. The "Scrubs" actor drew the ire of many by asking his would-be audience for help through the fundraising website Kickstarter, with many feeling that it was inappropriate for an established star with Hollywood connections and several year's worth of syndicated sitcom money in the bank to be asking regular folk to turn out their pockets.
But his fans jumped on board, and now the question is whether "Wish I Was Here" delivers their money's worth.
WIWH, like Garden State before it, tells the story of a struggling actor (Braff) at a crossroads in life. In this case, Braff's Aidan Bloom is a 30-something father of two who is in a professional rut. He hasn't worked since "that dandruff commercial," leaving his wife (Kate Hudson) to shoulder the bulk of the family's financial burdens.
Aidan gets hit with another blow in the form of his ailing father (Homeland's Mandy Patinkin) whose cancer has returned and spread throughout his body. Their relationship is strained, with Patinkin's character incessantly voicing his disapproval of Aidan's career choice, but more intact than that of Aidan's brother (Josh Gad) who we presume has barely spoken to his father in years.
The movie is more mature than much of Braff's earlier work, with a surprising amount of tenderness between Braff and his two children (played by Looper's Pierce Gagnon and White House Down's Joey King). But there is a disconnect between the characters and the material that stands in the film's way. Braff and Hudson have little chemistry onscreen and Gad has even less with Ashley Greene in a side-plot awkwardly inserted into the fray. There's also a significant portion of the film devoted to religion that never quite materializes into something impactful.
In the end, Wish I Was Here is a pleasant film with a unique and sufficiently emotional voice. But the movie likely will not live up to the expectations of Garden State fans who waited 10 years for Braff to get back behind the camera.
Grade: B
Happy Christmas
Writer-director Joe Swanberg isn't one to hit you over the head with plot. His films, of which there are many but particularly 2013's "Drinking Buddies" and now "Happy Christmas," tend to be more naturalistic portrayals of everyday drama and humor that come across as minimalist and largely improvisational.
In Happy Christmas, Swanberg reunites with Buddies' Anna Kendrick to tell the story of Jeff and Kelly (himself and the perpetually underrated Melanie Lynskey), a young couple who take in Jeff's sister Jenny (Kendrick) after her break up with a boyfriend. Jenny is a charming (it's Anna Kendrick so, natch) but somewhat stunted and self-interested person who is acting out and prone to moments of immaturity, which makes Kelly nervous about her presence in the house.
But as the advent calendar on the mantel ticks off the days to Christmas the family bonds and Jenny's presence prompts a series of small evolutions within Jeff and Kelly and their already-strong but novice marriage.
The film is filled with moments of simple delight, particularly in the form of Swanberg's real-life son, who steals every scene that he's in. There are character arcs and conflict and resolution but the film is largely a peek into the life of three people who feel as real as any person you might pass on the street. It comes to an abrupt ending, making loose ends of otherwise minimal plot points, but provides a refreshing portrait of marriage and family without the cynicism or pandering of most similarly-themed films.
Grade: B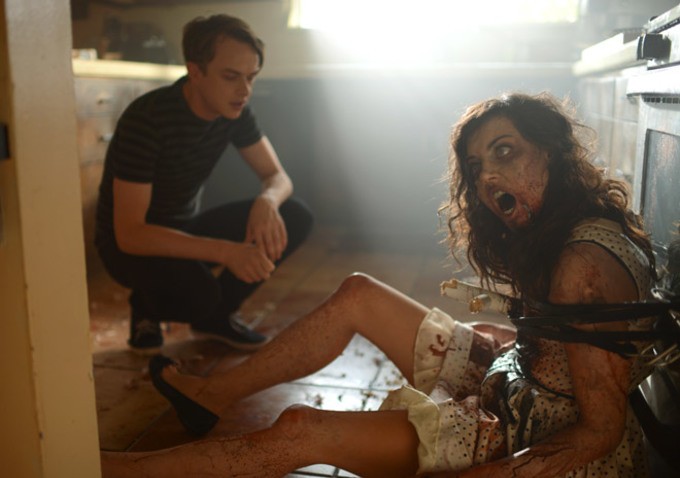 Life After Beth
I almost didn't see Life After Beth, thinking that my zombie cup runneth o'er considering the limited time I have at Sundance. But luckily a scheduling snafu found me in the theater for the comedy about a young man whose girlfriend dies but inexplicably rises from the dead.
Don't let the above photo fool you, Life After Beth is not a zombie movie in the traditional sense and stays fresh by largely abandoning the trappings of the genre. In the film we follow Zach, played by Dane DeHaan (who is consistently fascinating to watch in whatever project he finds himself in), who is in mourning over the sudden death of his girlfriend Beth (Parks and Rec's Aubrey Plaza) and is subsequently dumbfounded when he comes across her walking around her living room one night.
Her memory is hazy and her behavior is erratic, but Zach and Beth's parents (John C. Reilly and Molly Shannon) are too thrilled to have more time with her to care. As time goes by, however, Beth begins to manifest even more troubling symptoms and it begins to appear like her miraculous resurrection may not have been an isolated incident.
Life After Beth stays light, winkingly playing off the expectations of a dead-are-rising Armageddon and years of zombie apocalypse fiction. Plaza, as the undead Beth, goes all in on her performance, committing to a high level of physical humor while growing ever more grotesque as the movie plays out.
The movie is irreverent and inventive, with just the right amount of shocks and gore to balance out the screwball humor. It's a delicate tone to maintain but Life After Beth nails it, and in the process provides a story that will keep you chuckling long after you leave the theater.
Grade: A-
Roger Ebert -- a man whose name is as associated with film as are Hitchcock, Fellini and Spielberg -- was the premiere voice of film criticism in America and the first movie reviewer to be awarded the Pulitzer Prize. Last year, he passed away after a yearslong fight with Thyroid cancer, leaving behind a legacy that will never, and truly can not, be matched.
In "Life Itself," the documentary based on Ebert's memoir of the same name, filmmaker Steve James paints a comprehensive portrait of the man. With Ebert's full collaboration -- or rather, encouragement -- James' camera captures the struggles with alcoholism, the contentious relationship with longtime colleague Gene Siskel, the ego, the poise, the drive, the romantic. We see Mr. Ebert's final weeks in the hospital leading up to his death, expressive and jovial, cracking wise and energetically describing his favorite films as well as the low moments in physical therapy when the frustrations boil beneath his voicelessness.
At one point late in the film Mr. Ebert, speaking with the assistance of his computer, remarks that he does not fear death as it is a part of life and would have felt cheated if his time had come abruptly as a result of an accident, cheating his life out of its poetic arc.
"This is the third act and it is an experience," Ebert says.
The film is a fitting tribute to a great and influential man, whose life was, in many ways, a tribute to the movies.
Grade: Two thumbs way, way up