American Horror Story: Asylum (FX)
As far as Wood's Stock is concerned (and the Emmy nominations ballots) the second season of AHS is actually a wholly new show, despite retaining it's name and the lion's share of its season 1 cast. For Asylum, the tricks and treats moves away from a modern day haunted house in Los Angeles to a 1960s-era center for the criminally insane, lorded over in Nurse Ratched style by a nun (Jessica Lange) who hides a flame for her Monsignor (Joseph Fiennes) and a penchant for dressing up in red lingerie. There's also a Dr. (played by the indomitable James Cromwell) who experiments with the crazies and may or may not be building monsters in the woods out of his patient's no-longer-needed body parts.
Oh, and there's alines...or are there?
Season 1, or series 1 -- or however it is we're supposed to refer to the different anthology sections -- was packed full of spooky fun, but Asylum does a better job at providing a more complete universe with more diverse and (dare I say) likeable characters. While it was interesting to see what kind of shenanigans would befall the Harmon family in AHS prime, there's bona fide mysteries introduced in the premiere of Asylum that demand answers and justify the stellar ratings FX achieved with the show. It also gives season 1 MVP Evan Peters a little more heart and reason to be rooted for, despite the fact that he very may well prove to be a serial killer again.
The "mature" rating is more than accurate and AHS is hardly for the faint of heart. But if spooky fun is your cup of tea, or if you simply enjoy watching something completely unique that revels in flying it's freak flag, check into the Asylum and don't bother checking out.
Grade: A-
Class: Subscribe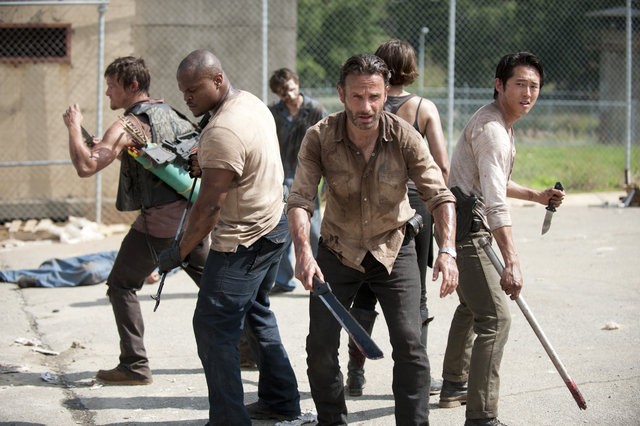 The Walking Dead (AMC)
In case you didn't hear, season 3 of TWD premiered to gargantuan, record-shattering, HULK-sized ratings. Long heralded as one of the best hours of drama on television, and one of the most original TV programs in a decade, TWD has gotten better and better, raising the stakes each season while diving deeper into the underlying theme of what it is to be human, and alive.
After a slow-burn season 2 that subtly built to a violent crescendo, Season 3 comes back after a time jump of several months, showing us a band of survivors that has evolved into an efficient machine under the unquestionable leadership of Rick. In 44 minutes, the gang register dozens (literally) of zombie kills as they hack their way into a run-down prison that may offer the group the safe haven they've dreamed of. Not a moment too soon, either, as Rick's wife Laurie is only days away from delivering their child.
I loved the season 2 premiere, but after watching the 1st episode of season 3 I can honestly say that I haven't been this excited to see what comes next since Rick found himself trapped in a tank in the middle of Atlanta in the pilot. If the storytelling and pace are preserved, Season 3 could easily be the best we've ever seen from a show that routinely blows me away.
Grade: A
Class: Subscribe