I feel somewhat hypocritical writing this. Generally, I would say that next to Reality TV, the world needs another Crime Procedural like it needs a kick in the head (actually, the world COULD use a kick in the head, but you get my point).
Even being conservative and not counting syndication (where the original Law and Order is going strong) we still live in a world with two NCIS, three CSI, two L&O, Hawaii 5-O, Castle, Unforgettable, Body of Proof, Criminal Minds, Blue Bloods, The Mentalist, Person of Interest, and Bones.
Broadening the parameters to include more alternative, comedic, or serialized fare, you could add to the pile Psych, Burn Notice, Grimm, Fringe and COPS. And, I'm sure there's plenty more that even I don't know about.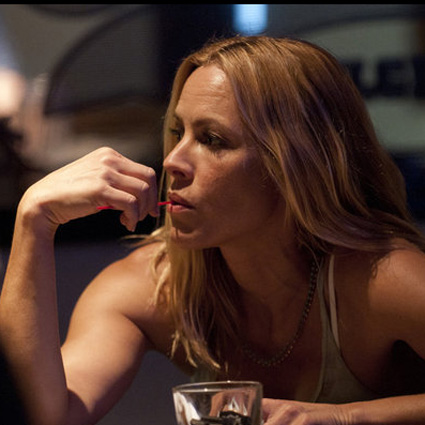 I watch a lot of tv, and have a finite number of hours to do so. To meet that balancing act I have a soft rule of only patronizing one crime procedural from Column A. I used to watch CSI until I realized that after about 4 seasons they were essentially telling the same stories over again. I watched scattered episodes of L&O:SVU (the best of the L&O franchise) but the show's 101-ways-to-rape-underage-girls central point was just too much of a downer.
I had sworn off the genre altogether until a couple of years ago when I decided taking two from Column B (Psych and Burn Notice) didn't break the rule and then simultaneously I got hooked on Castle because, well, Nathan Fillion is just so darned charming.
And so it is that NBC's prime suspect arrives this season, hoping to break into the pack and bring some viewers back to NBC. It's not doing well, which prompts this post as yet another
S
ave
O
ur
S
how.
Let's not kid ourselves here, PS is a cut and dry case-of-the-week procedural, but even as such it manages to avoid some of the pitfalls of the genre. Case in point, there's no murder sequence opening intro of a jogger running through central park getting ice picked or a teenage girl walking home alone from a party, etc. Even Castle dips into that well too much.
Secondly, every show will tell you about how their particular brand "is about the people and not the cases," and, bless their hearts, they try to live up to that. That's why in season 6 you meet the protagonists ex-wife (it's a metaphor for how much their job has stinted their personal growth) or in season 5 two co-workers begin dating (oooh, a workplace relationship, how edgy). Prime Suspect, on the other hand, walks the walk. The show is as much a feminist manifesto as it is a cop show. Maria Bello's detective Jane Timony is recently transferred to her precinct where she encounters the hatred of her male co-workers, who assume she slept her way to the top and who, faced with a woman in their ranks, feel the need to exert their dominance as top dog.
Slowly and surely, Bello is beginning to win them over with her I'm-a-b****-but-I-solve-f***ing-cases attitude but she's got a long way to go before she's one of the gang and frankly, she doesn't care. Bello's Timony is what every feminist
should
be. Instead of burning her bra and screaming about how evil men are, she carries a gun, will beat you like you stole something and, in a brilliant move, is in a stable loving relationship with a civilian.
Then there's the look and feel of the show. Most of the genre has a cheap, we-don't-need-to-polish-this-because-only-old-people-watch-our-show hue and texture that either make the world look like Gotham City on a rainy day (CSI and L&O) or where retirees go for vacation (NCIS, Hawaii 5-o). Prime Suspect, an adaptation of a British miniseries starring the impeccable and equally B.A. Helen Mirren, comes with the steady hand of Writer-Director Peter Berg (Friday Nigh Lights -- movie and tv show--, The Rundown, Hancock) who is, in my opinion, one of the most underrated directors in America.
Simply put, this show is what every other Column A crime procedural
should
be (except Castle, they've got their own thing going and they're doing fine). It's real people solving real crimes. There's no man-fell-from-the-sky gimmicks (CSI) or every-teenager-is-a-rapist memes (L&O). They solve burglaries and murder suicides in the grimy rat-infested hustle and bustle of New York. The supporting cast is an incredibly orchestrated tapestry of personalities with special awards going to the Tim Griffin/Kirk Acevedo pair that figure it's easier to arrest a guy AFTER he breaks his legs jumping from a window (a la Meet Joe Black) and figure that even in the middle of a murder case there's time to screw with a jumpy snitch or engage in some healthy wagers.
It's a great show, better than 3/4 of the trash that occupies the airwaves right now. If you haven't checked it out yet, please do so and even if it's not your style, record it on your DVR and let it run while you wash dishes in the kitchen (next-day DVR views are included in the Nielson live+7 ratings). You may, like me, already have your crime show, but PS is worth breaking the rules for.