As 2009 comes to a close we find ourselves in the mid-season television hiatuses (hiatusees? hiatusi? what in the world is the plural of hiatus?) Quite frankly, I have been for the most part, unplugged from TV this semester -- my new apartment doesn't have the ability, as did my old one, to steal free cable -- but thanks to the glory that is Hulu I am able to keep up on my old addictions, and find a few new ones.
Here are the new shows that spring can not bring back quickly enough.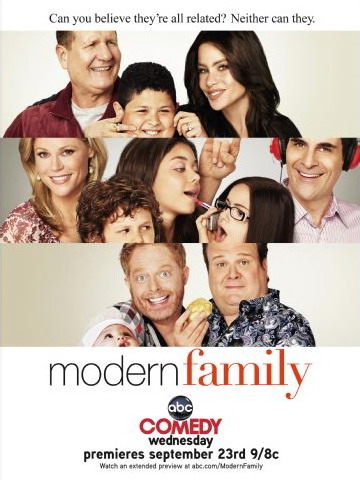 1. Modern Family
This show is absolutely fantastic. I hate to even compare anything to Arrested Development (rest in peace) but this show comes as close as anything ever will to filling the dysfunctional family void left by the departure of my other favorite tv family.
From the bits of patrarchal wisdom from Ed O'Neil to the absurdly naive parenting of Ty Burrell and rounded out by the hysterical banterings of homosexual partners Cam and Mitchell (Eric Stonestreet and Jesse Tyler Fergusen, who we also refer to as gay Cody of
Paper Badge
) this show never misses a beat.

Watch This:
"Coal Digger" ep. 5
2. Community


I've always been a fan of The Soup's Joel McHale. In Community he leaves behind his m.o. of making quick work of reality-tv and instead takes on Spanish 101 at Greendale Community College.
This show is far from perfect. The jokes do, on occasion, fall short but even in its off beats Community has a comfortable hilarity. It's strength comes from it's array of main characters. McHales study group, pictures above, is a hodge-podge of junior college stereotypes over-caricatured to perfection: the innocent super-nerd who flared out her potential for a real university by popping pills, the letterman-wearing jock, the creepy old guy, the soul mother going back to school for a late education, the synical bra-burning feminist, the foreignor, and of course the better-than-this smoothtalker, in this case a lawyer disbarred for a phony degree and forced to attend school. "I used to say things like objection, and sidebar."
Community will have to find its footing if it's going to last, although it is reported to have been picked up for a second season. I'll be watching.
Watch This
: "Social Psychology" ep 4. Sidenote, all episodes are currently availabe on hulu.
3. Glee

It took me way too long to find Glee. I had heard plenty about it, from Entertainment Weekly's incessant raves to word of mouth, but until christmas break I didn't have time for any more shows. As a result I'm still scrambling to find the first episodes online, only the last 5 are available through "conventional" means.
Taste it. Love it. Crave it.
In case there is any doubt I want to make it abundantly clear: Glee is NOT High School Musical. Maybe if HSM had been produced by someone other than the touchy-feely misfits at Disney and had actually had some sort of depth in the story line it could have maybe been COMPARED to Glee, as it its: it can't.
Rolling Stone called the story lines Depressing, Entertainment Weekly preferred the term realistic. There is much more at stake here than the big man on campus getting his head in the game. We have teen pregnancy, broken marriages, paternal uncertainty, and homophobia. In one episode former cheer captain Quinn is thrown out of her house by her parents for being pregnant only to be forced to reveal in the next episode that the baby is not her boyfriend's, the good-natured Finn, but instead his mohawk wearing, sexually promiscuous best friend Puck all the while backdropped by some killer vocal arrangemtns...and that's just one character.
Adding flavor to the soup we have the ever-delicious Jane Lynch as the diabolically evil antagonist cheerleading coach Sue Sylvester. I love this show, biting sarcasm, great humor, and music that gives you goosebumps.
Watch This:
"Ballad" ep. 10. Especially for the "Endless Love" duet.
4. Better off Ted
Technically speaking, BOT is not a NEW show. I even gave a shout out to it month's ago on this blog. That said, the sophomore show has been batted around like a rag doll and is just now starting its mid-season second year.
Better off Ted just keeps getting better. Unlike Scrubs where the crazy takes place in cerebral hallucinations, BOT's madness is front row center in the wide-awake world of corporate science.
"The company need's you to weaponize a pumpkin." "We can do that."
Title character Ted addresses these otherwise inane happenings with a candid dryness. In a recent episode an employee is suspected of leaking information and is chased down the hall's by security personel, ultimately being tazed off screen while Ted and two executives look on.
"I love it when they run." says one.
"Tazed flesh smells bacon-y." Ted obseverd.



Watch This

: "Love Blurts," ep. 1. Bonus points for all the Utah shout-outs.

Honorable Mentions:

V, and Flash Forward

The jury is still out on both of these shows. ABC is desperately trying to finds it's replacement for Lost in the "blow-your-mind" TV genre. Oddly enough, both shows have Lost alumni: Elizbeth Mitchel "Juliett" for V, and both Sonia Walger "Penny Widmore" and Dominic Monaghan "R.I.P. Charlie" for Flash Forward.
Frankly, V is more likely to succeed. While Flash Forward does seem to get better with every episode the pace remains quite melodramatic and the overarching "see the future" storyline leaves for a number of "wait, what?" moments. If you find a piece of evidence because you already had it in the future, then you never actually found it. The more you think about it your head will hurt. P.s. I don't know why but Joseph Fiennes bugs me.
V on the other hand is a simpler story. Aliens are here, they play nice but secretly want to kill us. After 5 years of smoke monsters and polar bears, that's about all the mystery I can handle right now.